Where To Celebrate The Year's Scariest Halloween Beer Fests
Published September 26th, 2016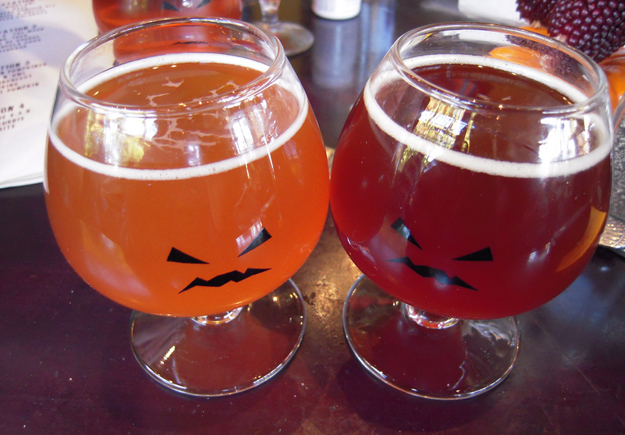 Autumn is a time to celebrate another successful harvest, which conjures images of corn, pumpkins and apples. But there's another plant we can honor during this year's harvest – the hop plant. And what better way to celebrate beer's best bud (the hop) than to tie in everyone's favorite October holiday, Halloween?
Here are some of the best scary beer fests taking place this year, featuring everything from zombies to masquerades and beer-filled giant pumpkins. Yup.
Great Pumpkin Beer Festival - October 8th, Seattle WA
For 12 years running, the Emerald City has played host to a wildly popular Great Pumpkin Beer Festival. Put on by Elysian Brewing in Seattle, the theme of the festival is pumpkin beer (and often times the color Orange), as well as live spinning from DJs of the local radio station, KEXP. Think this is just another pumpkin festival? Think again. Each year, the festival features a giant pumpkin (by giant we mean several hundred pounds) that's scooped, scorched, and filled with pumpkin beer. It's then sealed, conditioned, and tapped at the festival.
Big Muddy Monster Beer Fest - October 15th, Murphysboro IL
A creature was sighted around midnight, June 26, 1973, near a boat launch just east of Riverside Park. This creature, this monster, was 7 feet tall, covered in mud and shaggy hair, and smelled of sewage. Police were called to the scene, and near 3 a.m., heard high-pitched screams, but nothing more. Forever known now as the Big Muddy Monster, this creature's legacy lives on in the form of a beer festival. The Big Muddy Monster Beer Fest on Oct. 15th isn't as much about scaring the bejesus out of you, as it is honoring a pretty rich history of brewing. Back in the 1880s, Murphysboro Brewing Company (renamed to Rudolph Stecher Brewing Company) was one of the preeminent craft brewers in the country, but prohibition got the best of this midwestern brewery, and it shut down. 70 years later, the town of Murphysboro could rejoice again, as Big Muddy Brewing opened up (in 2009), and celebrated two of the town's legacies: brewing and monsters. To celebrate the rebirth of an old tradition, the folks of Muphysboro celebrate with their annual brewfest, featuring the Imperial Tent, that offers exclusive beers not found anywhere else at the festival. And if you show, who knows...maybe you'll catch a glimpse of the Big Muddy Monster.....
Haunted Brew Fest - 10/8 - Colorado Springs CO
If you want to take part in a festival that celebrates the best brew and costume of the day, you've struck gold. The folks behind the brew fest have been working with the most popular haunted house attractions throughout Colorado to make sure this year's event is unforgettable. Located right next to the Haunted House, the brew fest will surely get visits from some unique characters, including ghosts, ghouls. Psychic readings, a modified hearse car show and more will make this much more than just a beer fest, but yes, there'll be plenty of beer too.
Hoppy Halloween Beer Fest - 10/22, Bristol PA
This year marks the first ever Hoppy Halloween Beer Fest, put on by Broken Goblet Brewing. One look at the brewing company's name - Broken Goblet - should give you an idea of how much Halloween influences the brewer behind the beer, Joe Fazekas. On Oct. 25, Broken Goblet's brewery and tasting room will be transformed into a Halloween wonderland (Fazekas wouldn't have it any other way), and the public is welcome to join. Featuring a handful of breweries including Broken Goblet, this first ever Hoppy Halloween Beer Fest will also feature horror movies shown on the big screen, Halloween-themed games, costume contests with cash prizes, music, and food truck offerings. Learn more.
BierBuzz® Masquerade Craft Beer Festival - 10/22, Riverside CA
In a unique approach to the costume contest, the BierBuzz® Masquerade on Oct. 22 will greet attendees with a red carpet entrance, to help them show off their scary, sexy and silly costumes as they enter the event. The festival requested that all brewers attending (20+) bring either a rare beer, or one specially brewed for the event, meaning attendees will get to sample beers that no one else on this planet get to enjoy. Held at the Industry Hills Expo Center, the event is 21+ and will feature plenty of food, live music and beer.
Witch Craft Beer Fest - 10/30, Geneva IL
For the first time, the fifth third ballpark in Geneva IL will play host to a impressively sized autumn beer festival. Come and trick or treat for your favorite craft beers. There will be a costume contest with a prize for best dressed. Classic horror movies on the new big screen and a DJ playing Halloween classics and top 40. Don't miss the opportunity to experience this spooktacular event.
Nobody does the fall like the USA. No matter where you turn, there's surely an awesome Halloween-themed beer festival nearby. Share your festival with us to get the word out and help us all celebrate Halloween in fashion.