Now Boarding: Beer Festivals Hosted at Airplane Museums and Ships
Published June 14th, 2023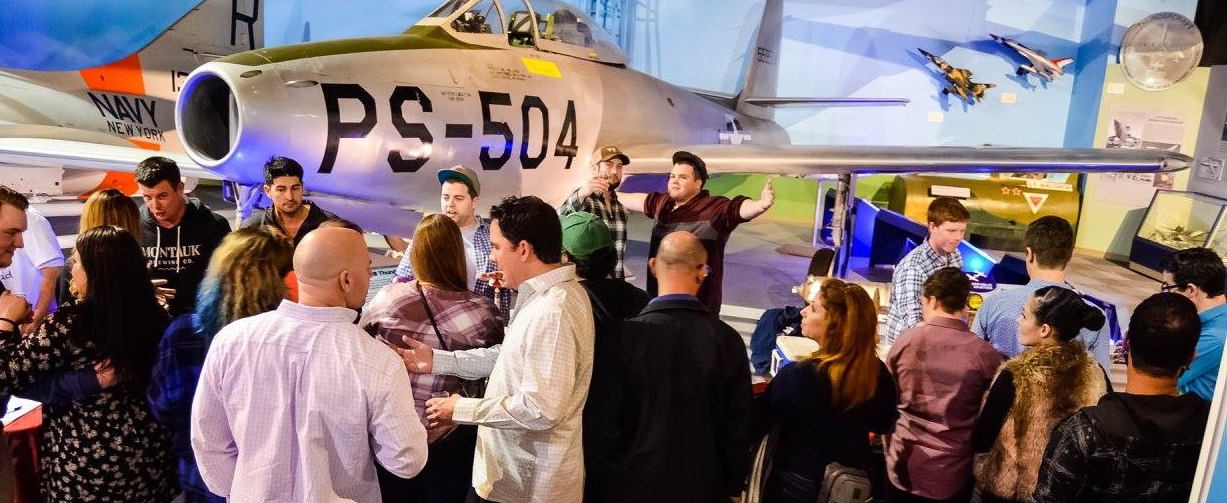 Beer festivals have evolved beyond traditional venues, taking enthusiasts on a journey through history and aviation. Imagine sipping on your favorite brew while surrounded by vintage airplanes or aboard a legendary ship. In this blog post, we will take you on a virtual tour of beer festivals hosted at airplane museums and ships, where craft beer and aviation enthusiasts come together for an unforgettable experience.
Brews on the Bay - SS Jeremiah O'Brien, San Francisco, California, USA
Set sail aboard the SS Jeremiah O'Brien, a renowned World War II Liberty-class merchant marine ship. Brews on the Bay provides an unparalleled setting for beer lovers to indulge in their favorite brews against the backdrop of the iconic San Francisco Bay, Golden Gate Bridge, Alcatraz, and the city skyline. Immerse yourself in history while savoring the finest craft beers.
Props & Hops Craft Beer Festival - Palm Springs Air Museum, Palm Springs, California, USA
The Palm Springs Air Museum sets the stage for an extraordinary craft beer festival. Explore a vast collection of vintage aircraft as you sample a diverse range of beers. Enjoy the unique atmosphere and stunning views of the aircraft displays, all while indulging in fantastic brews and delectable food offerings.
Halloween in the Hangars Brew Fest - New England Air Museum, Windsor Locks, Connecticut, USA
Experience the ultimate beer tasting adventure at the New England Air Museum, where attendees will be treated to an exclusive opportunity to savor their favorite brews within the expansive confines of a magnificent hangar. This remarkable venue houses a remarkable collection of 80 historic aircraft, each with its own intriguing story waiting to be explored. As the largest aviation museum in the Northeast, it opens its doors after hours, transforming into your personal playground, providing a truly unique setting to discover and indulge in new craft beers. Step back in time as you climb aboard vintage planes, engaging in fascinating conversations with the incredible individuals who have piloted or restored these magnificent aircraft, all while sipping on a selection of delightful craft brews.
NJBA Battleship Beer Fest - USS Battleship, Camden, New Jersey, USA
The New Jersey Battleship Craft Beer Festival offers an exciting blend of live music, local vendors, and an impressive lineup of over thirty breweries, all set aboard the nation's most distinguished battleship. The event serves as a fundraiser, with proceeds supporting the New Jersey Brewers Association and the maintenance of the Battleship New Jersey. Whether you're passionate about preserving US Naval history, supporting NJ Craft Beer, or simply seeking a fantastic day out, this event is not to be missed. Your ticket grants you unlimited beer samples from participating New Jersey breweries, the option to embark on a guided tour of the battleship prior to the event, live music performances, breathtaking views of the Delaware River and Philadelphia, and an unforgettable historical experience.
Hops & Props - The Museum of Flight, Seattle, Washington, USA
This beer festival celebrates the finest craft brews from the Northwest region and beyond, all in support of The Museum of Flight. As you explore the Museum's galleries, you can immerse yourself in the fascinating world of aviation history while enjoying live tunes that create a lively and vibrant atmosphere. Hops & Props is not only a remarkable beer festival but also a significant contribution towards the preservation and advancement of The Museum of Flight's mission.
Conclusion:
Beer festivals hosted at airplane museums and ships offer an extraordinary experience, combining the love for craft beer with the fascination for aviation history. Whether you find yourself aboard a historic ship or surrounded by vintage aircraft, these festivals provide a unique opportunity to savor exceptional brews while immersed in an atmosphere that celebrates both flight and flavor. So, mark your calendars, raise your glass, and embark on a journey through time and taste at these remarkable beer festivals.