Ready to Go on the Ultimate Beer Run?
Published June 14th, 2016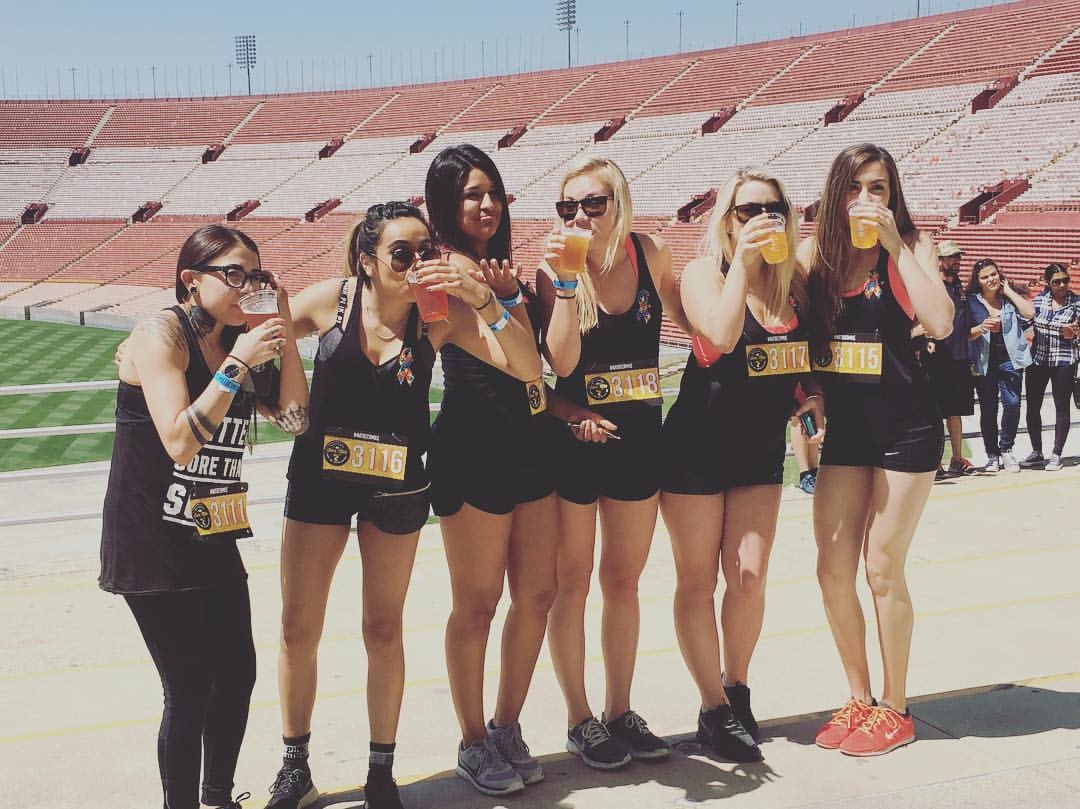 EXCLUSIVE: You can save 20% off tickets with coupon code "BEERFESTS". Hurry, this lasts until 12am PST tonight (June 14th)!
Hey, we're right there with you: just because we like to kick back a few beers now and then doesn't mean we don't like to also get our sweat on as well. It's just that there's only so many hours in the day. How can you possibly get in a good run and have plenty of time to celebrate with a beer?
We all have our priorities. With just 24 hours packed in each day (not even counting sleep and, what's that other thing? Oh yeah, work), we're forced to make some tough decisions in life.
Exercise or drink. Exercise or drink. What will it be today?
Well folks, we're excited to tell you that you no longer have to choose. Thanks to the National Beer Mile, you can elevate your heart rate and blood alcohol content all in one fell swoop. *


*We also think this means you can add "multitasker" to your résumé.
What is the National Beer Mile?
Be warned, we're about to impart some math on you, but we think you'll be able to handle it.
What do you get when you combine 4 beers and one mile? You get the ultimate beer run event, of course.
The National Beer Mile is a one-mile fun run for people of all, umm, walks, of life, including avid runners, social drinkers, and bona fide party animals. The event is held throughout the country, from coast to coast, with new cities being added regularly.
Here's how it works (and trust us, it's not rocket science):
Drink a beer while you run, walk, jog, skip, dance, or whatever a quarter of a mile down the predetermined course. When you get to the end of a quarter mile, you crack open another beer and repeat your journey all over again.
Pretty simple, right?
You can even recruit friends to join a #NBMsquad (you'll save money by purchasing a "Group of 5" ticket package) or just meet new friends along the way.
Get your face on ESPN
Louis Kent might not be a name that drips off your tongue, but he's popular enough to have made it onto TMZ and ESPN. And he has the National Beer Mile to thank.
Kent is a runner. But you see, he's also a beer lover. So, just like you, he jumped at the opportunity to merge his two loves into one out-of-this-world event.
Only he didn't skip, dance or whatever through the mile course. He ran faster than Forest Gump could say box of chocolates. The Canadian runner ran a 4:47 mile in Austin, TX, back in December 2015, making him the fastest beer miler on the planet, edging out fellow Canadian Corey Gallagher by just over a second. You can check out the official Beer Mile database of running results here.
Ready to embark on the ultimate beer run?
You don't have to run like Kent or drink like a fish to enjoy the National Beer Mile event. With races happening nationwide, this is the perfect opportunity for you to prove to the world that drinking beer is good for you. Check out all the National Beer Mile races happening around the country: